Agile Pods For Product Development | Advantages Of Agile Digital Pods
In recent years, some companies have begun to adopt the Agile Pod Delivery Model, which is an ever-evolving process that offers businesses greater flexibility and faster product development.
Businesses today are undergoing digital transformation and are constantly seeking to improve their processes, create efficiencies, and find new streamlined and effective ways of working.
In this blog, we will look at the advantages of agile digital pods and help you understand how it can be leveraged by companies.
What is an Agile Digital POD?
An Agile Digital POD is a workspace to create a collaborative work environment within a multidisciplinary & cross-functional team working in a digitally agile framework.
There is also a concept of "digital cell", with each cell composed of 8–10 experts, with each member responsible for a single task and managing parts of the backlog.
How do Agile Digital PODs benefit projects?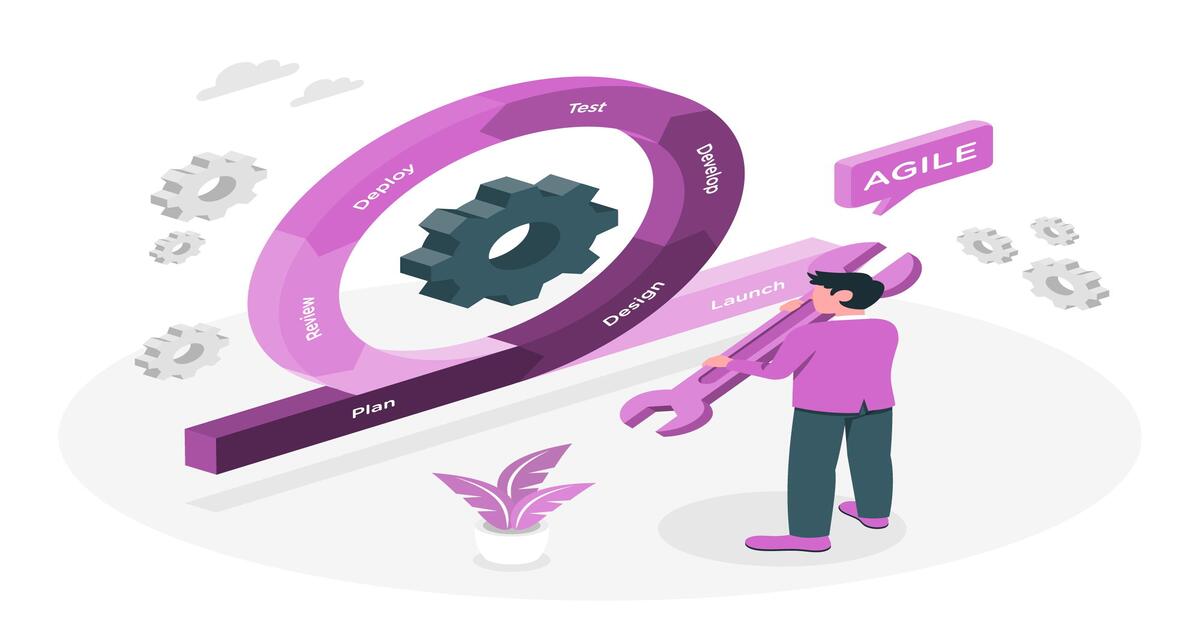 These teams work independently with the required self-sufficiency to ensure timely delivery and progress coupled with research and enhanced technical data, including project metrics.
The team size, work progress, quality of work delivered, & analytics are automatically available in Agile Digital PODs. These details are shared in the program management setup to provide almost real-time control, which is the unique attribute of Agile POD.
Agile POD for product development
To summarize, an Agile POD is a small group of disciplined experts with a variety of competencies, who work collaboratively on the delivery of a defined product in multiple iterations.
No wonder each Pod is made up of a set of complementary skills that are needed for successful product development. These are autonomous, cross-functional, and highly adaptable teams that provide a flexible and scalable approach to developing solutions.
Why use Agile POD for Product development?
POD models are nowadays considered the future of the digital era. Most businesses have adopted technologies to realise their digital vision, and the lines between traditional business and IT are blurring.
Even though digital technologies are being adopted rapidly, there is a large separation between traditional business operations and the usage of IT for digitization.
Hence, it is imperative to embrace a methodology that reduces the aforementioned gap and helps act with speed to the market changes, which is possible by making technology, domain experts, and business professionals work in a collaborative manner.
Easy Teamwork
With the traditional models of business and IT being converted into separate groups, there is a strong need to work hand in hand and ensure defect-free products with a faster time to market.
No wonder the Agile POD model is a big boost to product engineering in present times. With the proper usage of this model, the team gaps are broken and the collaborative approach is given a fillip with a "we build it and we own it" mindset.
Product organizations are adopting this new model for a faster and more robust product roll out. There is an advantage to leveraging agile processes with DevOps, giving a fillip to the development process.
There is a clear advantage to using POD-based product development over the old school of thought of traditional models of platform engineering.
Focus Change
The focus has shifted to developing a product through a collaborative effort with diverse domain and technology specialists working together to develop a state-of-the-art product. The Agile POD team structure is aligned to specific domains and capabilities, with ownership of the end-to-end lifecycle of a product in a cross-functional team setup to develop a project with rigor.
Also, product development time has been reduced a lot by virtue of the use of the POD model. Embracing POD-oriented development is a time-consuming process initially as skilled resources are hard to find, and the challenge eases with choosing the right operating models, roadmaps, governance structures, and business-oriented KPIs in a phased approach for customer-centric product rollout.
The Benefits of Agile Digital PODs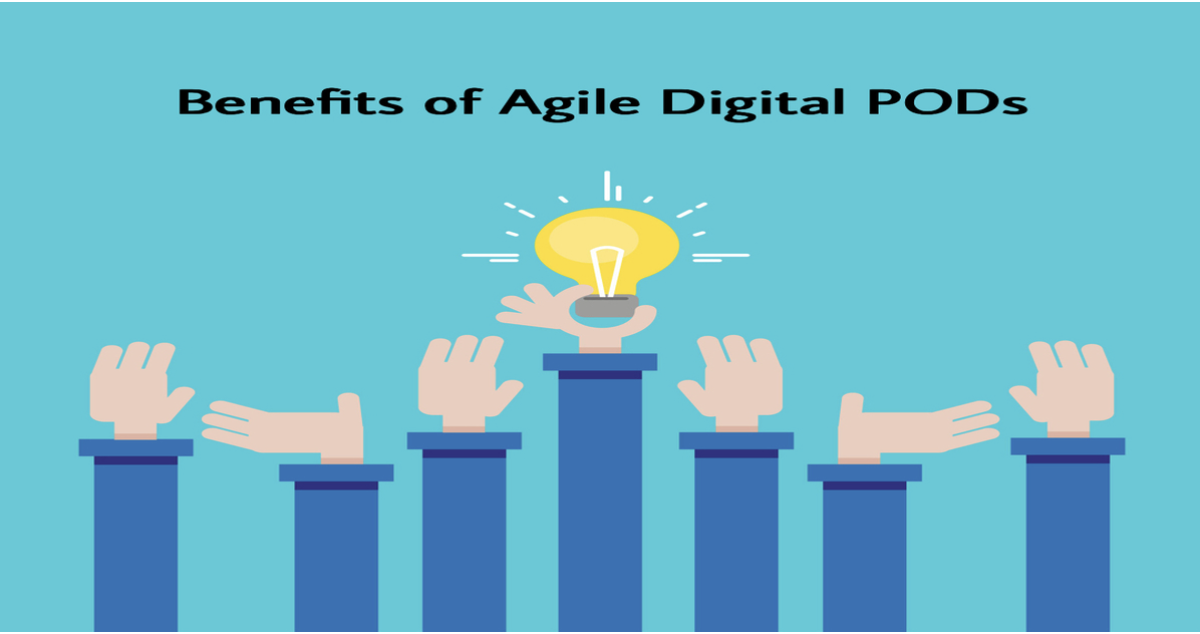 The advantages of Agile Digital PODs refer to the additional benefits obtained by the product development company by using these PODs. Advantages are aplenty, with a few being detailed as follows:
Expertise
Knowledgeable experts are adept at product development with a greater product focus and attention to detail. There is a continuity in working in an agile set up in a collaborative manner with a dedicated scrum master ensuring the POD stays focused to achieve desired results in a timely manner.
Communication with Stakeholder
Agile Digital POD team members have great regard for how various stakeholders interact with each other, with a strong focus on cross-functional productive working environments.
Team work
The essence of PODs is to have a skilled workforce working jointly, which enables a team to leverage the strength of each other and develop an enhanced decision-making capability.
Saves Time
The main advantage of having a POD setup is to work with rigour and reduce the time of delivery to help meet stringent delivery timelines and bring about real value for money.
Rapport between team members and clients
The environment created by POD ensures there is a strong bond established between clients, product team, and stakeholders to gain full knowledge of the needs of each other and help create the best possible outcome.
Increased

Revenue
Revenue and profitability are linked to successful usage of products in the market, and a well-developed product is the key to positive top-line and bottom-line benefits, which is again a value created by the POD model.
A Creative Environment
A creative environment for consultant growth is created by PODs, which provides an environment for consultants to test new waters, work on the addition of product features, and swiftly move onto newer product development with ease and get integrated into new scrum teams.
Agile Digital PODS Team Structure
The team structure of Sonata Pods follows the 'Build, Deploy, Manage' model with the team consisting of digital strategists, domain specialists, creative technologists, service designers, user interface specialists, consultants, and developers.
The focus is to ensure the team works collaboratively, upholds agile values, and treads the digitally agile path, as well as mitigating any potential issues that may hinder quality product development.
The entire concept works in a manner to bring clients closer to developing robust digital solutions.
Digital way of working
Agile Digital PODs are enabled digitally to deliver work, collaborate, and report on the progress of developing scalable solutions. Agile Digital POD ensures the success of digital transformation thanks to a combination of strategy, design, and high-end technology.
With a focus on providing complete digital solutions, Sonata addresses all applicable challenges by providing expert consultants catering to each of the areas required in the POD and ensures the experts are accelerating the digital transformation process and making products and solutions for customer delight.
Why Sonata for Digital Transformation?
The Sonata digital transformation team is focused on helping clients speed up delivery of digital solutions with flexibility and leverage major advantages that include
Enhanced product focus with 30+ years of technical capability.
Cross-functional awareness
Accurate and fast decision-making
Delivery in a timely manner
Collaborative work environment.
Availability of experts and experienced, flexible consultants
Sonata understands the challenges faced by CTOs and technology leaders to navigate digital transformation steps and has incorporated the Agile POD offering as a powerful tool to access and leverage diverse skill sets.
Conclusion
Sonata is a well-established information technology, consulting, & business process services company and provides solutions with the industry's best capability of POD in a quest to offer quality digital engineering services to global customers.
Have any queries? You can be a part of the Q&A session on May 26th where our experts will help in clarifying any queries you might have.
Here's the link - https://register.gotowebinar.com/register/7927208779385109518