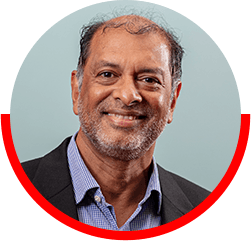 P. Srikar Reddy
Managing Director
Srikar is the Managing Director and Member of the Board of Directors of Sonata Software Limited. A graduate from the Regional Engineering College (NIT, Trichy), and a Post Graduate in Management from IIM Calcutta.
Srikar has been with Sonata since 1986 and is pivotal in building Sonata as a trusted and reliable IT Solutions company. Srikar's philosophy of driving business growth through a single-minded focus on customer and investment in people and technology, has made Sonata one of the fastest growing IT solutions company with a unique and differentiated strategy and value proposition.
In the last 11 years, between 2012 to 2022, since Srikar was the CEO of the company and Sonata has seen its revenues, profits multiply many times and a market capitalization growing over 20 times, enabling the Financial and Industry analyst groups recognizing his focus to conceptualize and execute a unique growth strategy based on IP. This has helped Sonata to be a member of the group of unique Global growth companies at the World Economic Forum (WEF).
Srikar has set Sonata on a new growth path with a unique proprietary approach to creating digital businesses called "Platformation "
Srikar is actively involved with NASSCOM and CII, and was the Chairman of the Regional NASSCOM Council. He has been the Speaker at WEF and NASSCOM events. Srikar was conferred with the distinguished Alumni award by NITT, for his contribution to Industry/Corporate.
Sonata's growth over past 11 years is now widely recognized and Srikar has been featured recently in the list of India's 10 most valuable CEO's in the large enterprise category (2500 crore to 7500 crore) by 'Business World,' (Issue dated 18th June 2018). He has also been featured by Business Today (September 2017) as leading one of India's fastest growing emerging (revenue between 500 to 2500 Cr) companies.