Industry 4.0: Transformation of the traditional manufacturing landscape with smart technologies
In the Industry 4.0 perspective, Smart manufacturing is a collaborative mechanism that is fully integrated to respond to the evolving demands and situations on a real-time basis in the manufacturing plant. With an increased reliance on newer technologies such as cloud computing, Big Data modelling, and the Internet of Things (IoT), the manufacturing sector has shown a major impact on:
Production being standardized
Demand being consistent and predictable
Supply chains have become more stable
Data-driven manufacturing should be the approach manufacturing firms should adopt to stay ahead of the game. This will equip the decision-makers to predict the production pattern, Observe and fix potential maintenance issues that can arise and Identify any risks and take necessary actions so that they are able to drive future design and developments.
Smart Manufacturing: Driving Manufacturing through Data Insights
Smart Manufacturing connects the machines through the Internet to gather data and check on the production process in a factory. Let us analyze a few reasons how smart manufacturing will drive the way ahead and benefit the entire manufacturing Industry:
With a vast amount of data generated in the production process, Smart Manufacturing helps suppliers ascertain what and when the manufacturers need the supply
Through optimum production cycles, the money saved can be utilized for product development. This helps production managers to identify where customers need products. This is an opportunity to deliver superior quality to the customers
With clear visibility, managers can forecast and fix production issues in time before it leads to issues resulting in production downtime or product quality issues
Manufacturers are empowered to identify potential wastage when their enterprise solutions are in sync with the manufacturing operations
Manufacturing companies should tap the opportunity with valuable data that is readily available, that will enable them to pinpoint on specific issues as well as have resolutions for more efficient operation.
Optimize productivity in Manufacturing through Data Analytics
This application of technology through judicious use of data is proving to be beneficial beyond the conventional production of goods into business-critical functions like capacity planning, supply chain logistics, and product development. This process combines production, information sharing, and communication channels in the manufacturing ecosystem.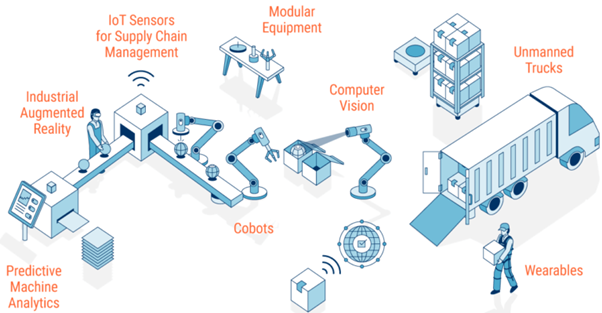 Image source: Ulala Lab
The data generated through robotics, AI and IoT will increase a factory's output, while significantly reducing costs and end product defects. With coalition from the field level to the logistics level, Smart Manufacturing can unlock the road to enhanced productivity for manufacturers. With manufacturing becoming more efficient, personalized and modular factories will remain in flux.

Data Analytics: Empowering decision making through valuable data insights

Data analytics in Manufacturing aims at improving the product quality of the finished product and its processes. When the analytics is done using the right tools and methods, they help organizations in significantly reducing downtime, enhancing productivity, optimal capacity planning, precise predictive ability, and higher adaptability. The process reaches its goal when the value is generated from big data analytics. This offers manufacturers the opportunity to harness the hidden value from enterprise information systems to streamline production and supply chain management. When data analytics in a smart factory is applied to day-to-day operations, the end result is Operational analytics. This process enables decision-makers in manufacturing firms to be responsive through real-time access to data on-the-go. Operational Analytics uses the data generated from the production machine helping the organization to identify any potential need for maintenance or repair.
These advanced technologies can bring about improvements to the modern manufacturing environments that are confronted by complexity, capacity and speed. By utilising smart manufacturing technologies to the regular production process, organizations will be in a better position to cope up with the changing market demands. With data at the core of operations, manufacturers will be able to better assess risks as well as forecast the impact on product quality and the organization's bottom-line.


Build a future-ready foundation to your digital transformation journey through Sonata

Sonata's platform-based Data approach enables manufacturers to yield faster ROI, lesser time-to-market for data-centric transformations aligned to their business priorities. Sonata empowers enterprises to realize modern platforms with Reporting and Analytics, Real-Time data insights and consulting powered by IoT, AI/ML solutions. Visit our Data and Analytics offerings page to know more on how we can enable you on your path to true digital transformation.