The pandemic situation induced an economic shock that affected most of the CPG companies. While most the CPG firms battled the crisis, the supply chain difficulties, changing consumer behavior, increased regulations by the governments and workplace restrictions are shaping the new normal.CPG companies are embracing Digital Technologies and alternative channels to market and engage with consumers.
Digital Supply Chain
The digital supply chain is the modern supply chain concept that's widely being implemented, A supply chain can be termed as a digital supply chain when advanced digital technologies like IoT, blockchain, machine learning, artificial intelligence, predictive analytics are integrated into the supply chain ecosystem.
Supply chain leaders are planning to make the supply chain more trackable with sensors attached to containers of all format connected to the supply networks.
Active collaboration is required between Sales, manufacturing, logistics and all the functions which are responsible for the supply chain operations, improve supply chain performance, order fulfillment and thus the customer satisfaction. The collaboration and automation required is possible with Digital Supply chain systems.
Importance of Digital Supply chain for CPG brands
Supply chain efficiency and improved margins are key to CPG brands as they deal with low price and high-volume product lines.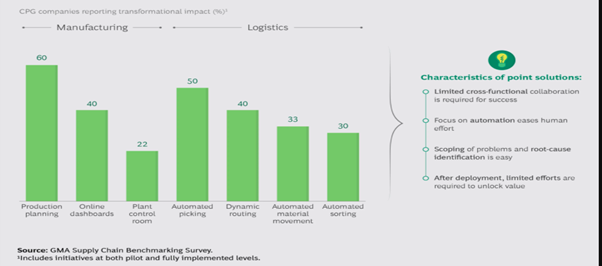 Source: BCG
Digital supply chain technologies are helping the CPG firms tackle the replenishment and forecast problems
Predictive analytics for accurate demand-forecast and optimized inventory management
Automated replenishment
Direct to consumer channels
An e-commerce website must be considered part of the digital supply chain as there is an increasing trend of consumers shopping directly from the brands.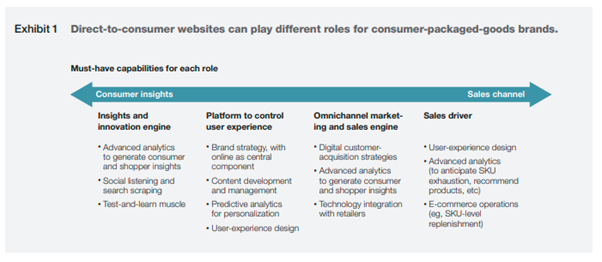 Brand websites play multiple roles; they provide insights on consumer behavior, help in improving consumer experience and personalized promotions apart from acting as sales drivers.Navigating the "New Normal"
The connected supply chain concept is being adapted by the CPG Industry, where consumer, retailers, distributors, and Brands relate to help of Digital Technologies. Connectedness when coupled with Intelligence can help achieve supply chain resilience.
CPG players are improving the forecasting algorithms and embracing ERP integrated forecast systems to cut through the demand uncertainties.
According to a survey by BCG, 21% of the CPG firms responded have a vision for the digital supply chain and another 58% are working toward such a vision. About 26% of the CPG companies they have surveyed said that "digital in the supply chain" is a top priority for the business, and about half reported piloting 15 or more digital use cases.
This shows going Digital is the right strategy to improve the CPG supply chain efficiency and thus improving customer satisfaction.
Role of Sonata's Digital Platforms in building a Resilient Supply Chain
Sonata leverages the power of platforms to help clients create & implement platform-based business models.
Sonata's Modern Distribution is a future-ready digital supply chain platform with rich features and functionalities bringing together all elements to drive growth through new channels of engagement, ensuring channel loyalty and best in class margin management.
The platform enables digital commerce with customers & suppliers, optimizes overall supply chain performance, and provides Digital engagements with Channel partners and end customers.
Visit our Distribution& Manufacturing offering page to explore the Digital platforms that help build a resilient supply chain