Platformation & Platform Engineering Automation – Speed-to-market and innovation
One of the most common challenges faced by organizations to adopt a platform strategy is speed-to-market. Speed-to-market means bringing software upfront that can-do various things and quickly delivered. Developing everything from scratch all the time takes more time to losing to competition. Customers and service integrators must resort to platform way of envisioning and delivering features that involve low/no-code development environment resulting in high quality and speed to market.

Modern business models are changing, new technology progression and digital agenda have influenced the customers to take new avenues for innovation to reach their customers. The Market is increasingly thriving through new business models and services creating stiff competition. Circumstances are pushing customers to think accordingly, and integrators must have fast and consistent innovation to serve these evolving consumer needs. Strategic digital business platforms ready to deliver tangible results, whereas Enterprises are encountering various challenges in defining, planning, and executing their digital journeys without the proper platform architecture and engineering automation.

Methodology to build industry-standard platforms

A 7-Step Sonata's Platformation Methodology enables to build industry-standard platforms to design and scale-up successful business models. Various tools, canvases, and process of the methodology will guide and support the platform team while exploring, ideating, launching, and scaling a successful platform & ecosystem business model.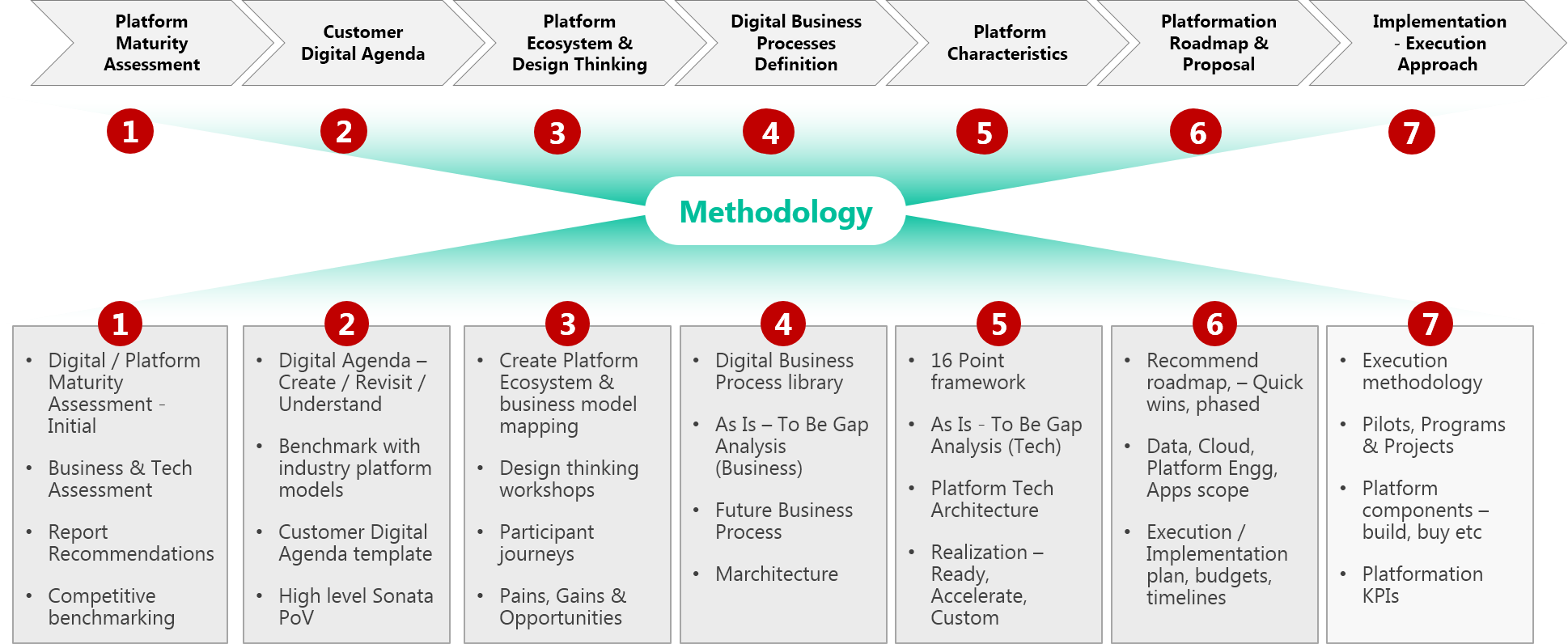 Figure: Sonata's Platformation Methodology
Sonata's Platformation process provides an end to end process from visualizing the platform to implement and manage the platform. While we have tools to implement the components and services, it's important that we also understand personas, customer journeys, and optimize interactions to deliver better customer experiences to increase customer satisfaction.

Platform engineering - critical for enterprises!

Execution methodology – 7th step of our platformation process, which is after we have thought through the platform definition, target architecture, and roadmap, includes the platform engineering process and tools that are used to implement the technology platform. Platform development is a complex process require highly specialized engineering thought process with a specialization in multiple tools and technologies. In general, to develop a platform-based business require a specialized engineering team and tools.

Sonata's Platform engineering process enables the digital delivery of the key components of the platforms such as User Experience Platform/micro front ends, API/Microservices Platform, Data Platform that are hosted on the cloud.

Innovation of platform engineering

The platform engineering of yesterday may have worked well, but too often they sat still and kept to themselves. Now those platforms & strategies are considered obsolete. Hence, Today's products and platform engineering need to be more innovative to sync changing customer needs. Platform Innovation is the process of quickly iterating on the business model of the market by either developing new solutions or building on an existing platform.
Modern organizations therefore need to offer customers a promise of accelerated learning. Their message needs to be: "if you join the platform business model on the new terms of collaboration (platform engineering), you're going to perform faster than outside".
LightningBuild - Modern Platform Delivery Automation
To improve customer experience, integrate business processes, enterprises need to adopt digital agenda with a strategy plan to achieve long-term goal. To implement the processes quickly and in an agile manner to test their strategy, business model, and innovate there is a need for platform engineering automation.
Enterprise will have a heterogeneous software landscape which will have built for purpose applications, legacy software's and external apps/services. Hence there is always a need for customers
To build custom applications and services that provide a unique value proposition
To build application faster and maintain easily with minimal cost
To create/define their own applications and get an approximate cost and schedule upfront to build them

A platform build-suite of Sonata's IPs, platform development automation tool, which enables the organization to fasten the digital journey by leverage platform engineering automation framework. It's our platform offering, which helps to build applications using existing assets & ready-made services that adhere to standard patterns and practices.
LightningBuild is a low-code no-code automation platform that:
Provides the design time composition of UI and API components as reusable applications
Enables the platform way of development of digital business processes
Allows creation of applications using existing assets & readymade services that comply to platform characteristics and guidelines
Provides a rich set of predefined applications for use, so enterprises can quickly compose and deploy
Allows to change the source code generated and customize to specific needs of the customer
Provides the ability to deploy and run the applications using predefined build and deployment pipelines

LightningBuild platform consists of the following key components to enable the automation needs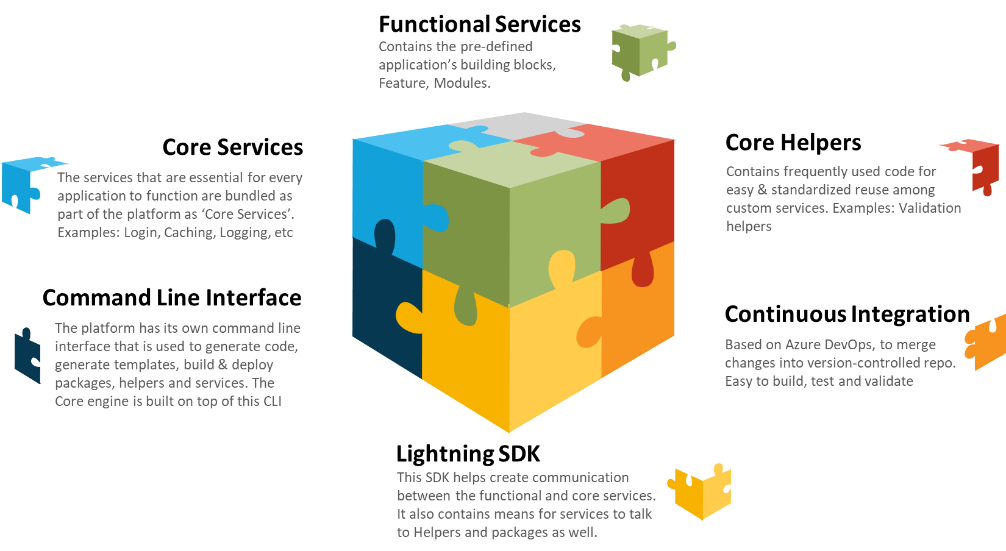 Efficient, Agile & Scalable automation platform boost the efficiency of the engineering teams to envision and realize the digital agenda by enabling the implementation automation.

Strategic decisions allocation, a key success factor for platform engineering journey

Every Platform engineering team intended to build a strong platform strategy, prioritizing spending, resources, and commitment of effort on those platforms that can best support to achieve business goals. On those channels that are best able to meet business priorities and are the most essential ones that need this support. Platform engineering mission Control needs to work directly with the superior technical and management committee to secure resources and make these difficult trade-offs.

Enforcing standards for speed and mutual benefit

A well-established platform engineering Mission Control team is to define and govern the standards across the portfolios to achieve the desired business goals. A clear set of objectives in the team empowers and sustain longer business goal, which may avoid the rework, miscommunication and unproductive work. Platform engineering Mission Control should have the authority to enforce the use of standards by, for example, not releasing any budget for project elements that deviate from them.

Conclusion

Platformation and engineering Automation framework is a key success factor for constructing next-generation thoughts to software, and from software to implementation. Today, agility is the strategic advantage of a company and the conventional process of production is not suited for the new age IT environment. Platformation engineering consultants are not only helping to automate inefficiencies, also boost product efficiency and reliability. The ability to respond rapidly to evolving platform circumstances is vital and cannot be left entirely to human hands. Automating systems are thus necessary to ensure continuous production and distribution within the modern enterprise. Our Platformation and platform engineering will help you to automate the envisioning and implementing your platforms with high quality, innovation, and speed to market.