How Travel Technology is Going To Transform The Travel Industry ?
Technology has transformed the travel industry drastically as we know it. How can brands utilize travel technology as an element of their competitive edge as the industry recovers from COVID-19?
Designed by Freepik
Consider this. In 1841, Thomas Cook, a Baptist Missionary, took a group of temperance campaigners from Leicester's Campbell Street railway station to a rally in Loughborough, a market town eleven miles away.
Ten years later, he was organizing another tour – of 1,50,000 people –so that they could visit the Great Exhibition in London. In 1855, he undertook his first international tour, taking parties to Belgium, Germany, and France.
As Cook expanded, he opened offices, established a network of travel agents, guides and escorts to manage travelers who signed up for one of his tours. And this huge network was managed mostly with the simplest of tools – fountain pens and meticulously kept ledgers.
Overview
Over the past few decades, technology has completely upended the travel industry. You can book your journey online, decide whether you want to check in to a hotel or go to an AirBnB host, choose your location on the basis of your interests or events during your holiday, book tickets for a concert that will take place a month later and a continent away – all from your computer or mobile phone.
For travel technology companies, hotels, airlines, restaurants, and other related sectors, this means that keeping up with the latest technology trends within the travel industry has become crucial. Especially now, in the era of COVID, as customer expectations shift.
What is Travel Technology?
In simple terms, travel technology means using technology to plan trips and automate travel processes like bookings, inventory management, itineraries, payments, back-office operations for tour operators and travel agencies to enable online bookings for customers and increase bookings and revenue.
It can also be described as the application of IT, e-commerce, and similar technology solutions within the fields of tourism, travel, and hospitality. The ultimate goal for implementing travel technology is to automate travel and related processes, time-saving, cost-effectiveness, and a more seamless travel experience for customers.
Technology enhances the customer experience before, during, and after travel. Additionally, technology can optimize businesses through improved accuracy and convenience, while simultaneously assisting in reducing or eliminating human error.
Hence, it is essential to always adopt the latest tourism technology trends, so that the best solutions are being used and businesses should gain a competitive edge. This is the right time to get your travel business to Enterprise Travel Technology Solutions.
Key technology trends in travel industry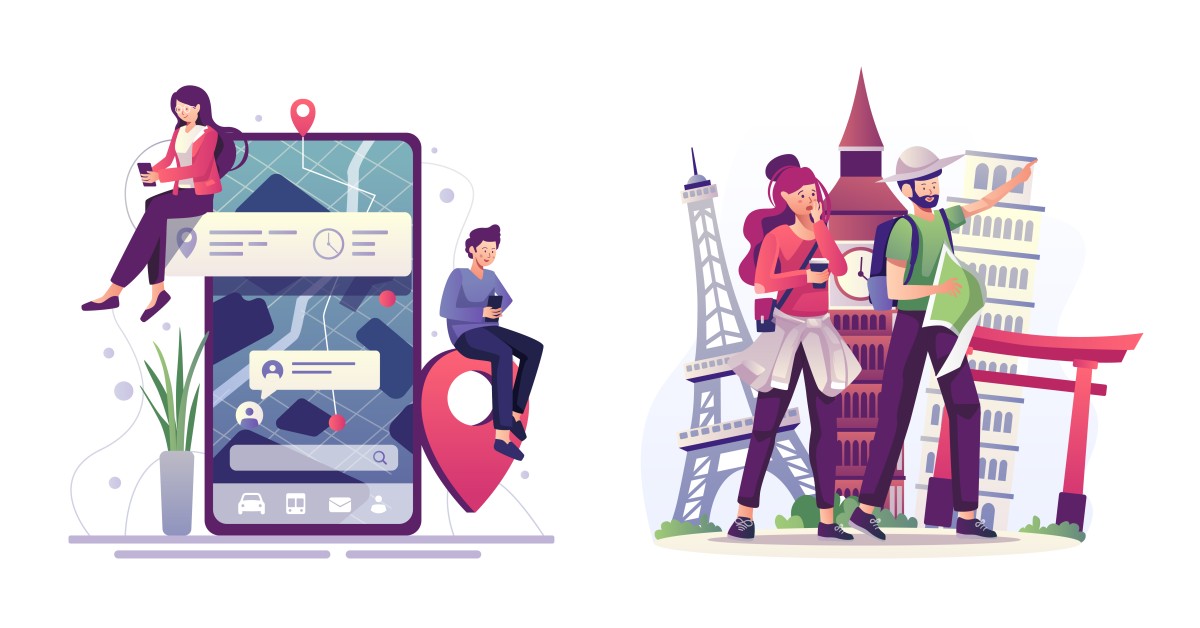 Designed by Freepik
We believe that these are the latest and newest technology trends in tourism and travel, along with tech trends that serve as an answer to the change in consumer behavior due to the COVID pandemic.
These will allow travel companies, flight operators to process payments more quickly, including in situations where customers do not have access to cash, or their credit or debit card. It is also a time-saving process that helps in enhancing the customer experience.
Devices like Smartphones, smart speakers, and AI assistants have all assisted in increasing the relevance of voice search in the travel industry. Many travel customers are now using voice search to find and book hotel rooms, flight tickets, and travel experiences.
Therefore, it is crucial to design your website with voice search capability to capitalize on the trend. Additionally, voice control is growing in popularity in enhancing travel experiences too. Voice-controlled devices in hotel rooms to control lighting and heating within the room, or to obtain tourist information without speaking to a staff member is likely to expand into other areas of the industry too.
VR provides travelers the ability to experience distant locations from the comfort of their homes. Customers can experience everything by using VR from virtual tours of hotels, restaurants, various destinations, national parks, or even specific activities.
Most VR tours are now compatible with web browsers and mobile-friendly which can help those who are hesitant to travel due to the recent pandemic to see the benefits more clearly. With its increasing popularity and its interactive features, this can assist to provide you with a competitive advantage over others who are yet to make a move to adopt these kinds of tech trends.
One of the most exciting travel technologies is Robotics technology and is constantly evolving. For example, in hotels robots have been used in concierge-roles, helping to greet guests and provide information.
Hotels are now expanding their use further like involving them in housekeeping and luggage handling. In airports, robots can be used to detect concealed weapons. Within restaurants, robots are being used to serve food and in a few cases food preparation also.
The uses of robots have been increased drastically due to COVID, as they have the potential to reduce human-to-human contact.
AI-powered chatbots are considered to be the most efficient travel technology investment as they are able to provide customers support on a 24/7 basis, regardless of staff availability.
Typically, these chatbots are helpful in answering common questions with standard answers but with AI technological advancements, chatbots continue to improve as they have more and more interactions and developments. It has helped especially with queries about COVID policies and safety or hygiene measures.
Big data is essential everywhere. In the tourism industry it helps to improve personalization, as travel companies use the gathered information to make specific adjustments to their offerings. It also helps in analyzing current business performance.
Hotels use big data for revenue management by comparing historic occupancy rates and past trends to better anticipate demand. Promotional and pricing strategies can be optimized if demand is predictable.
Recognition technology has the features which have the potential for removing friction purchases and making seamless interactions. Some of the key features include fingerprint recognition, facial recognition, retina scanning, and various other biometric identifiers.
Such technology has already been adopted by some hotels that allow room access via fingerprints or allow semi-contactless check-outs.
Cybersecurity is a major concern, not only in travel management but in all companies as there's an increasing risk from cyber-attack and more vulnerability to data breaches of other kinds. Travel companies are more susceptible to the threat of cybersecurity as it employs a large number of people who have access to an abundance of customer data.
There are some biggest threats namely phishing attacks and ransomware attacks. With the emergence of technology, companies are trying to reduce the risk of cyber-attacks.
Key features of emerging technologies in the travel industry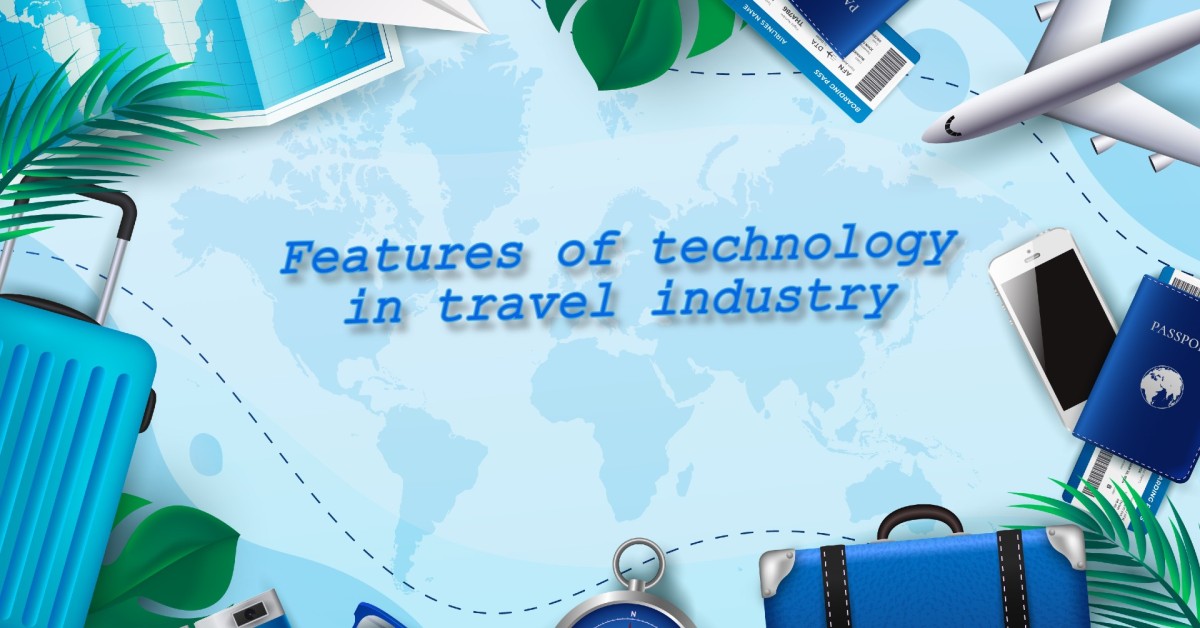 Designed by Freepik
Travel Portals - B2B/ B2C

Booking engine for hotels, flights, tours, activities

Third-Party integration

Itinerary builders

Reservation Management

Payment Integration

Multi-language support

Multi-currency support

Mobile-friendly design
Advantages of technology in travel industry
Cost effectiveness

Enhanced operational efficiency

Automated travel processes

Time saving

Improve customer experience

Increased bookings

Maximized revenues
Conclusion
The future belongs to those who prepare for it today – Digital Travel Platforms are helping transform customer experience & significant online sales in the travel industry. From traditionally operating in one vertical and targeting one segment of traveler, travel companies are now transitioning into multiple travel verticals with the goal of providing consumer centric services and products to the entire lifecycle of the traveler.
Digital travel companies like Expedia, Air BnB, Kayak to name a few have led the way to achieve massive success with their unique platforms to scale infinitely and grow to maximize their revenue model in new segments and enter new markets with ease.
Rezopia – A modern, proven, out of the box, robust cloud-ready multi-tenant digital travel platform for the travel industry. Rezopia is a Ready-To-Deploy Platform for reduced TCO & improved ROI for end-to-end travel reservations, contracts, operations, and distribution management systems for Tour Operators, Rail Operators, Airlines Holidays & Tourism Board.
Rezopia enables travel industry customers to transform business, innovate travel products and enhance to deliver unique customer experience.