Sonata Software is a Leader in Engineering R&D Services - Zinnov Zones 2018
Sonata Software is rated as a leader in Engineering R&D services by Zinnov Zones 2018 in enterprise software and consumer software categories.
"Sonata Software has consistently been rated among leaders for enterprise and consumer software engineering services. The firm's ability to innovate with engagement models has provided a competitive edge. Its platform led digital transformation services (Platformation) incorporates an advisory layer as well to help enterprises navigate digital change." - Zinnov
Zinnov Zones for Product Engineering Services is an annual rating from Zinnov for Global Technology Service Providers to assess the provider's capability in Engineering R&D Services. This year Zinnov evaluated 23 service providers across the globe and Sonata has been rated as a leader for its capability to perform concept to go to market, ability to foster innovation through IPs, and ability to handle ER&D services for large ISVs.
Click below to read the Sonata case study.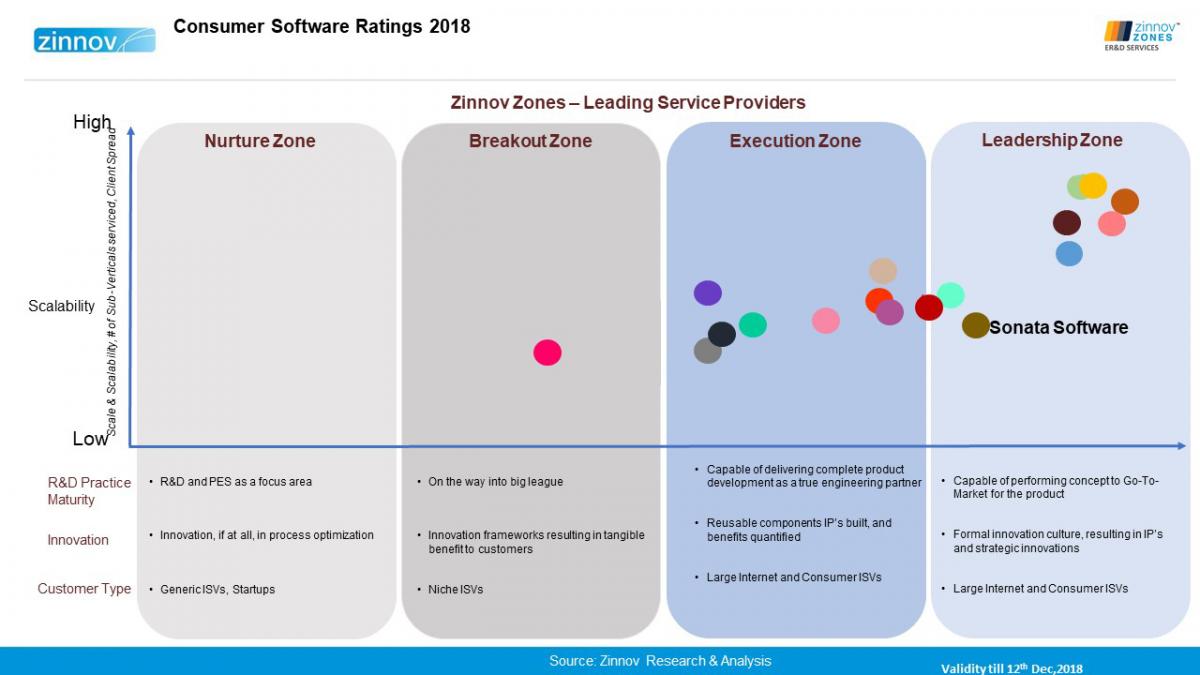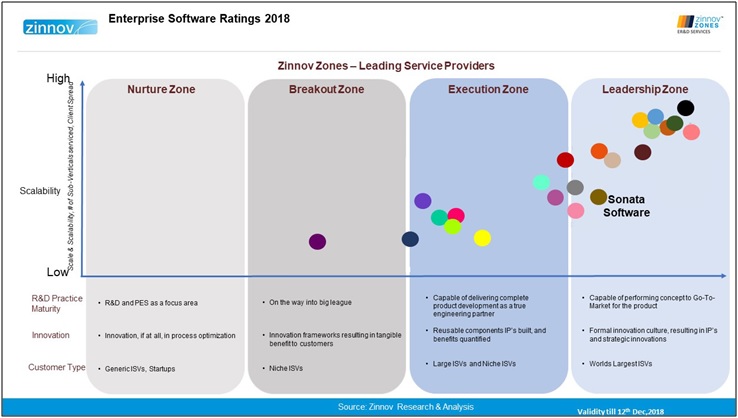 Sonata Software has over 30 years of ISV engineering experience, starting out to create over 100+ software products to transforming itself into a global Engineering R&D service provider about 2 decades back. Since then, Sonata has become a strategic partner of choice to over 170 ISV customers, built 450+ products and 15+ platforms and helped ISV customers achieve leadership status in their respective segments.
Srinivas Vuppala, Head of ISV and Cloud, Sonata Software said,
"Sonata's leadership in Engineering R&D services by Zinnov is a recognition of our continuous endeavor in delivering best in class engineering and products through our unique platform engineering capabilities from our world-class development centers. Our unique approach through proprietary platforms and engineering tools ensures faster modernization for our customers in their ability to fulfill the digital demands of their end customers."
Learn more about Sonata's Engineering R&D services here.
About Zinnov
Zinnov is a global management & strategy consulting firm with core expertise in globalization, product engineering advisory & digital transformation services.
About Sonata Software
Sonata is a global technology company that enables successful platform based digital transformation initiatives for enterprises, to create businesses that are connected, open, Intelligent and scalable. Sonata's Platformation™ methodology brings together industry expertise, platform technology excellence, design thinking led innovation and strategic engagement models to deliver sustained long term value to customers. A trusted partner of world leaders in the Retail, Distribution, Travel and Software industries, Sonata's solution portfolio includes its own digital platform such as Brick & Click Retail Platform©, Modern Distribution Platform© , Rezopia Digital Travel Platform© and Halosys Mobility Platform©, best in class capabilities on ISV digital technology platforms such as Microsoft Dynamics 365, Microsoft Azure, SAP Hybris, Cloud Engineering and Managed Services, as well as new digital applications like IoT, Artificial Intelligence, Machine Learning, Robotic Process Automation, Chatbots, Block Chain and Cyber Security. Sonata's people and systems are nurtured to bring together the depth of thought leadership, customer commitment, and execution excellence to make a difference to business with technology.