Solving the Modernization Puzzle with Dynamics 365
Digital technologies and digital platforms have been instrumental in enabling the world to operate in 2020, in a period of unprecedented disruption to our traditional business operating models. The use of digital technologies and digital platforms has introduced new engagement and operating models which will continue to operate and evolve and drive many aspects of your business in the future.
How does this new world impact the consideration of your current ERP system?
I would like you to take a moment and consider it is not just the ERP system to consider. There are other aspects to it like
What digital platform is your ERP running on?

Is the digital platform open and interconnected?

Is the digital platform intelligent (Analytics and AI)?

Is the digital platform leveraging current technology?

Is the digital platform scalable, agile, and flexible?

Is your ERP part of your digital platform ecosystem or just hosted?
Microsoft Dynamics 365 is a digital platform for business that is by design connected, open, scalable, and intelligent. These attributes are considered key enablers for business and essential for businesses to be able to adapt to the fast-changing circumstances and demands of customers in the digital age.
Why Microsoft Dynamics 365 for Finance and Operations is an apt choice?
Dynamics 365 for Finance and Operations is the digital iteration and advance on your current Dynamics AX version. It is more than just an ERP system, it an ecosystem of interconnected applications from the Microsoft technology stack that assist users in the day to day operations.
A browser interface to access from multiple devices

User-defined workspaces for common functions and dashboards

Build Power Apps mobile applications to enable users

Native CRM Sales integration to Finance and Operations

Microsoft 365 (Office) integration by design in the one platform

Embedded Power BI Analytics spaces for business visualization and insights
Microsoft Dynamics 365 for Finance and Operations is a digital-ready ERP available to you now with an upgrade path from your existing Dynamics AX application.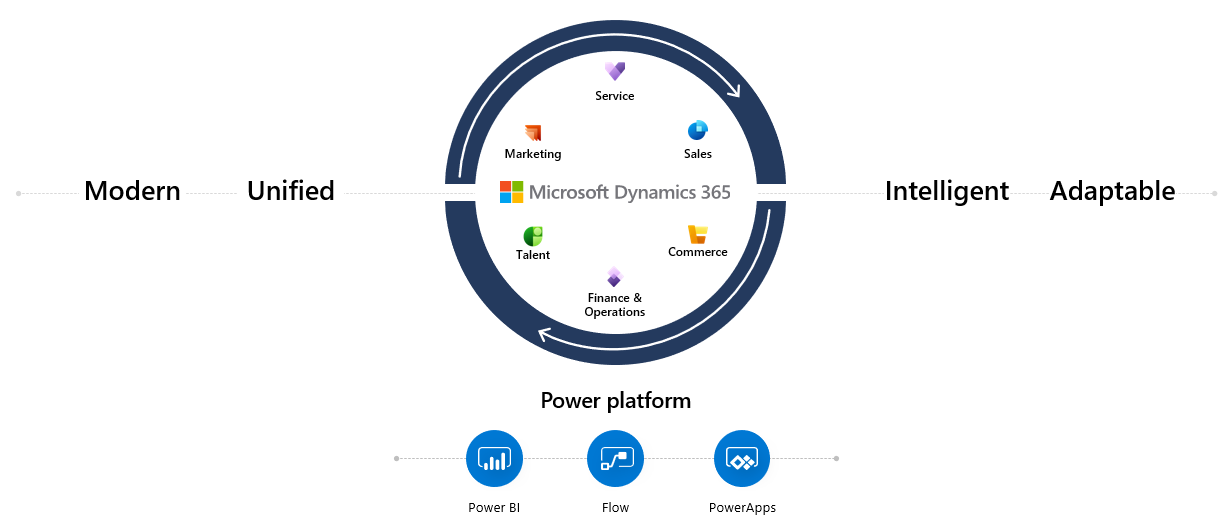 The All-round Benefits of Dynamics 365
Become more agile – move from reactive analysis to proactive actionable insights with embedded Power BI.

Single source of the truth - connected data across applications using Azure data services

Microsoft managed production environment – always current infrastructure.

Locked codebase – to allow continuous update – always current application.

Extensible development to support custom functions

No impact on core application

Supports continuous update

Removes conflicts between custom functions

Extensions migrate through updates with minimal effort

Secure – Microsoft managed security and disaster recovery.

Scalable as you expand or contract.

Microsoft enabled digital technology platform.

Extensive functionality out of the box.

Leverage new functionality and apps in phased workloads to manage capacity, budget, and resources.

Leverage the deep and continuous investment of an industry giant.
Sonata upgrade enablement
Sonata offers tools and programs to provide simple, direct, and automated upgrades from any older version of AX, to Dynamics 365 Finance and Operations. The complexity is now simplified with Sonata's Unique migration approach and toolsets.
The Sonata upgrade tool can save between 30-60% on the standard time and cost to upgrade, which is a huge benefit when planning your next move. Assessment to define the path forward.
Code uplift automation to migrate customizations to the new extensible framework. Eliminates the double lift from Dynamics AX 2009 to Dynamics 365.

To help businesses manage the decision of upgrading, Sonata has a tried and tested assessment methodology that can help co-create a digital transformation vision supported by critical data to plan this key strategic initiative.
Things to avoid
The end of support for Dynamics AX 2012 R3 in October 2021.

Core component failure on older versions as new operating systems and servers evolve.

Investing in an ERP system that is not built on a modern digital platform.

Investing in old technology.
For a deeper understanding write to me and my Dynamics Team
Learn more on how to accelerate your modernization journey.